Hello friend!
If you need a filter for your mask:

Measure the mask from chin to nose: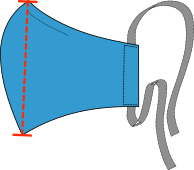 Download the filter shape pattern and cut your filter material to shape according to your measurements.

14 cm (5.5 in) = full size
12 cm (4.7 in) = ~90%
10.5 cm (4.1 in)= ~80%
Filter material can be obtained from HVAC air filters, vacuum bags, or surgical sterile equipment wrap (Serfinity Medical, USA Medical & Surgical).
If using 3M air filters, get ones with at least 1500 MPR rating (source).
Air filter material can also be purchased in bulk from Filti.